Moments after he saw that his song Kwaku The Traveller has been shared by DJ Khaled across all his social media platforms, Black Sherif has reacted with glee.
The Ghanaian singer and rapper as depicted by the video DJ Khaled shared was seen going hard in a freestyle session while spewing the lyrics of the popular KTT song.
The aura and profundity of the song impressed the renowned American DJ, record executive, author and producer whose real name is Khaled Mohammed Khaled so much that he had no option but to give him this extensive platform on his social media pages which has millions of followers.
Khaled shared the video on his IG page which has close to 30m followers and captioned it; @blacksherif_ 🔥🆙 KEEP GOING Music that touch your soul.
In response, Sherif who obviously became speechless used a combination of emojis to express his extreme happiness for this rare platform.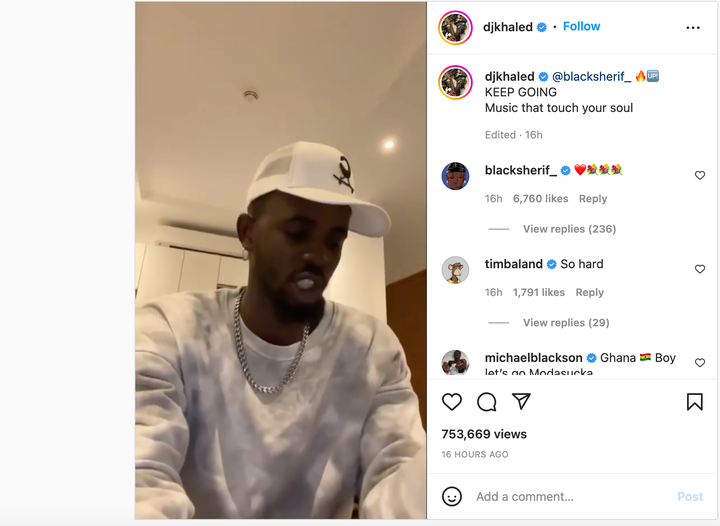 This new development comes days after Burna Boy made amends by inviting his Ghanaian counterpart Black Sherif to perform with him shortly after several online portals reported that he snubbed him.
Recall that a particular video of the African Giant apparently snubbing Sherif when they met in Jamaica got internet folks asking questions.
Burna Boy grossly left Black Sherif's hand literally hanging in the air when he wanted to shake his hands, shortly after he (Burna) exchanged pleasantries with Popcaan who was standing just close to Sherif.
In a video that made waves on a cross-section of the internet, Burna Boy, who is in Jamaica, was interacting with fans when Jamaican star, Popcaan and the Ghanaian musician stepped out of a room to meet him.
He quickly greeted the Jaimacan star by shaking his hands but refused to acknowledge the Kwaku the Traveller hitmaker when he stopped sipping his drink and gave him his hands.
But any shred of potential animosity was put to bed after Burna invited his Ghanaian counterpart to his private show where they thrilled the charged audience with their joint project ultimately putting the bed any seed of animosity that people ascribed to Burna Boy's action.
SOURCE: www.Ghbase.com