Perhaps, modeling isn't paying as much as acting, but say what you want, Famke Janssen is one of the best actresses there are on the planet and has successfully broken into the Hollywood industry. She is a Dutch realizing her dream in America with many appearances in Hollywood movies over the years.
Being the movie freak that you are, you might have come across Famke Janssen in a movie, but that aside, what do you know about her in terms of her beginning, how her career began, her nationality, and many other things?
Wonder no more as we unravel who Famke Janssen is.
Famke Janssen Biography
Famke Beumer Janssen was born November 1964, in Amstelveen, the Netherlands.
She has two sisters, director Antoinette Beumer and actress Marjolein Beumer, both of whom changed their surnames to Beumer after their parents divorced.
Famke Janssen is a Dutch actress and former fashion model.
She played Xenia Onatopp in GoldenEye (1995), Jean Grey / Phoenix in the X-Men film series (2000–2014), Ava Moore on Nip/Tuck, and Lenore Mills in the Taken film trilogy (2008–2014).
In 2008, she was appointed a Goodwill Ambassador for Integrity by the United Nations. She made her directorial debut with Bringing Up Bobby in 2011.
She is also known for her role in the Netflix original series Hemlock Grove and for her role in ABC's How to Get Away with Murder.
Janssen starred in the 2017 NBC crime thriller The Blacklist: Redemption.
Famke Janssen career
Famke Janssen started out as a model before she switched to acting.
In 1984, Janssen moved to the United States to begin her professional career as a fashion model.
She signed with Elite Model Management and worked for Yves Saint Laurent, Giorgio Armani, Chanel, and Victoria's Secret.
She starred in a 1988 commercial for the perfume Exclamation by Coty, Inc.
Her looks have been compared to 1940s movie stars like Hedy Lamarr.
After retiring from modeling in the early 1990s, Janssen had guest roles on many television series, including a starring role in the 1992 Star Trek: The Next Generation episode "The Perfect Mate", as empathic metamorph Kamala, opposite Patrick Stewart, with whom she later starred in the X-Men film series.
That same year, Janssen was offered the role of Jadzia Dax in Star Trek: Deep Space Nine but turned it down to pursue film roles.
Her first film role was alongside Jeff Goldblum in the 1992 crime drama film Fathers & Sons.
In 1995, Janssen appeared in Pierce Brosnan's debut James Bond film, GoldenEye, as femme fatale Xenia Onatopp. She appeared in Lord of Illusions with Scott Bakula.
Is Famke Jenssen married?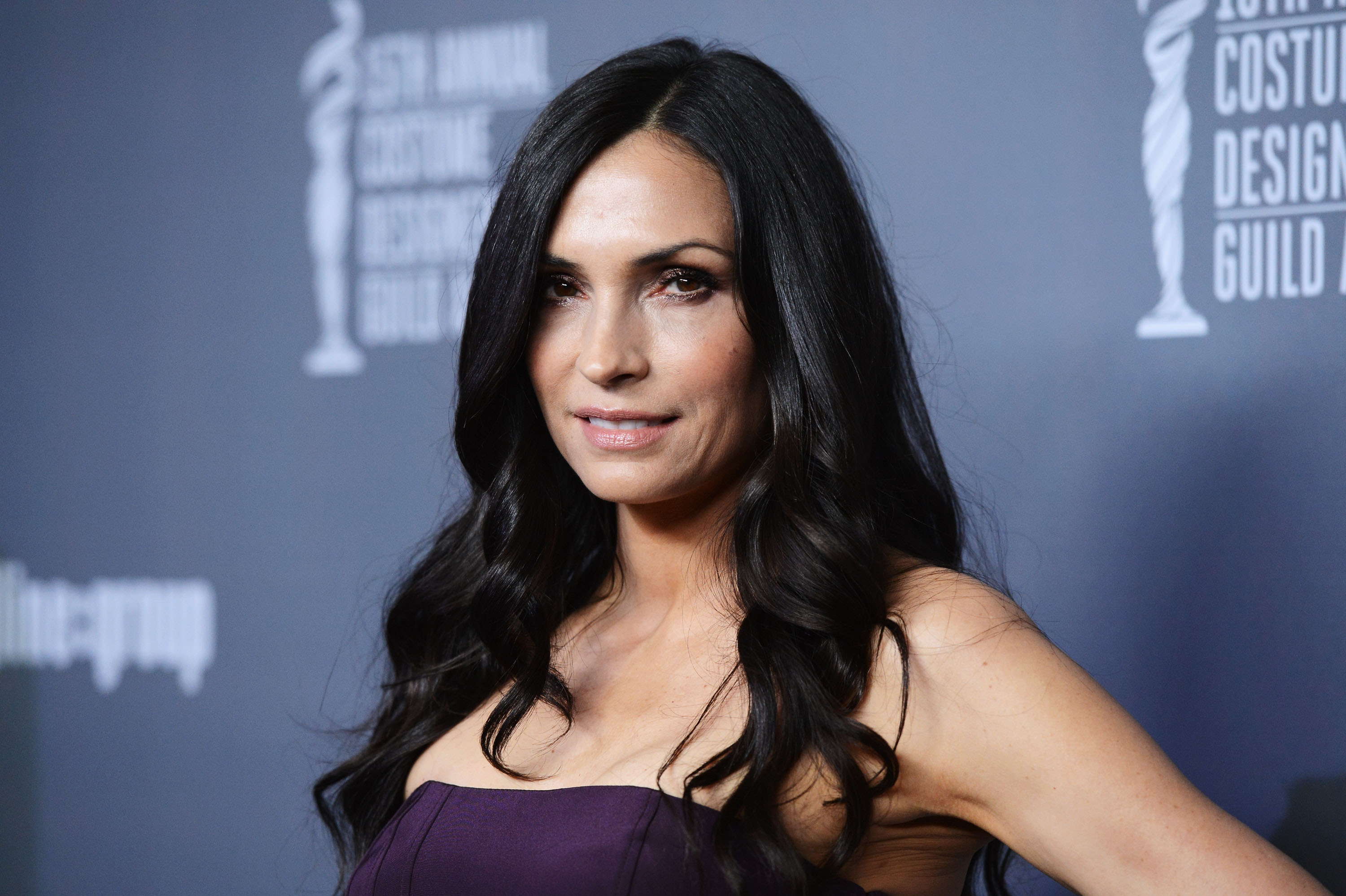 In 1995, Janssen married writer and director Kip Williams, son of architect Tod Williams. They divorced in 2000.
She has stated that she does not want to have children.
Janssen appeared with her dog, Licorice, a brindle Boston Terrier, in a 2007 PETA campaign to raise awareness for animal rights.
The campaign used the slogan "Be an Angel for Animals.
"On 28 January 2008, she was appointed a Goodwill Ambassador for Integrity for the United Nations Office on Drugs and Crime at a United Nations anti-corruption conference held in Nusa Dua, Bali.
In 2016, Janssen showed frustration in not being cast in the new X-Men movie X-Men: Apocalypse, saying Hollywood was sexist toward older women.
She said, "Women, it's interesting because they're replaced, and the older versions are never to be seen again… whereas the men are allowed to be both ages."
Did Famke Janssen do plastic surgery?
Plastic surgeries are quite common these days amongst celebrities and their reasons for doing that normally vary.
Although most of them do it to change a physical aspect of themselves, some do it to appear younger.
So, when Famke got to an age where this would be an option, most fans wondered whether she would do it or not.
While it is not clear what work she had done, it is quite apparent that the actress underwent plastic surgery to change her appearance.
Famke Janssen's plastic surgery results were not as great as one would have expected.
When she debuted her new look on the show The Capture, fans' reactions were not so great.
What is Famke Janssen net worth 2021?
In her long career, Famke has amassed a net worth of $20 million.
This is an impressive figure which is a testament to how good she is at everything she does.
Here's a profile summary of Famke Jenssen:
Birth name: Famke Beumer Janssen
Date of birth: November 5th, 1965
Age: 55 years old (as of 2021)
Place of birth: Amstelveen, The Netherlands
Occupation: Actress
Famous for: Acting
Nationality: American, Dutch
Sexuality: Straight
Current residence: USA
Religion: Unknown
Gender: Female
Ethnicity: Dutch
Zodiac sign: Scorpio
Parents: Unknown
Siblings: Antoinette Beumer and Marjolein Beumer
Marital status: Divorced in 2000
Former husband: Kip Williams
Children: None
Highest qualification: Bachelor's degree
Famke Janssen awards and nominations:
Famke has won several awards for the excellent performances she has delivered during her tenure as an actress.
Most of them were for her role in the X-men movies. However, her other roles were also significant.
The awards she has been nominated for include the following:
MTV Movie Award for Best Fight (shared with Pierce Brosnan)
Blockbuster Entertainment Award for
Favorite Supporting Actress – Horror
Blockbuster Entertainment Award for Favorite Supporting Actress – Science Fiction
Teen Choice Award for Choice Liplock (Shared with Hugh Jackman)
Saturn Award for Best Supporting Actress (Won)
Hamptons International Film Festival for Special Recognition (Won)
Hamptons International Film Festival for Special Prize (Won)
Gold Derby TV Award for Drama Guest Actress
https://youtu.be/1jCP2dxSOrk
Source: GhBase.com