Leo DaSilva of Big Brother Naija fame has pledged to keep his virginity until he legally gets married.
According to the 28-year-old gentleman, he is not ready for all the drama that sex and dating bring.
In a tweet, Leo said he is determined to keep himself as clean and pure as he is and wait to disvirgin after he has walked down the aisle with the love of his life.
"Not going to lose my virginity till marriage. The drama that comes with sex is clearly too much," he tweetd.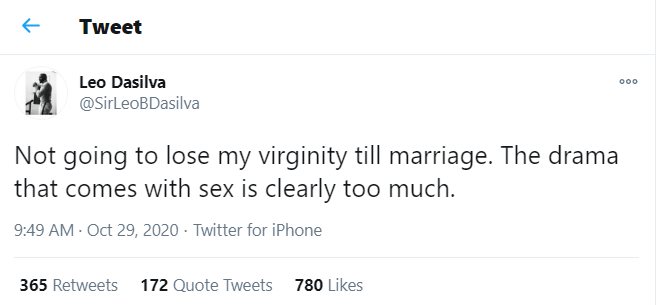 What makes his post interesting is how a gentleman would say he is ready to keep his virginity until marriage. This is not something society usually hears of so it has come as a surprise to many.
Leo is known to be a virgin after he disclosed his status at the Big Brother Naija house and has now come out to kill the interest of women who may be looking forward to having him.