A popular Nigerian author and motivational speaker, Geroge Praise has stunned the internet community by revealing that rich folks should have no association with the poor when they want to marry.
He argued that it will be a huge mistake for a rich person to commit his entire destiny into the hands of someone from the opposite side of the material coin in the long journey of marriage because the two entities think differently.
Geroge Praise said while rich people have viable minds and always think about a winning formula, the poor person has a different mindset altogether.
He wrote:
"If you are rich, do not marry the poor. It would be a monumental mistake.
Money will be an issue.
The poor think scarcity.
The rich think abundance.
The poor have zero money making habits.
There are problems love cannot solve. This is one of them."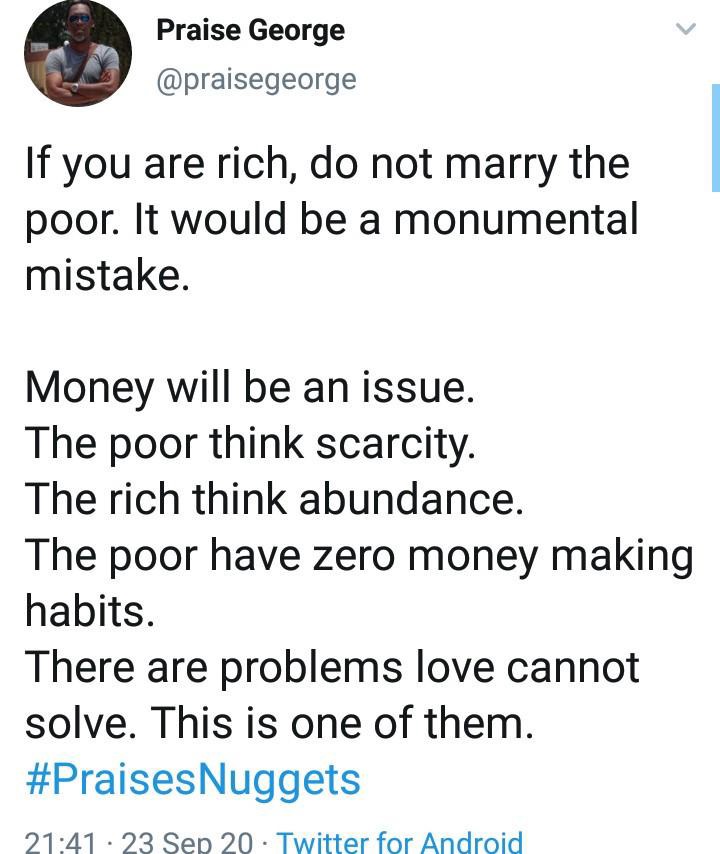 He added: "90% of all the marriages between the rich and the poor are destroyed by money issues. If you both are on the same level, you will handle the marriage better than when one partner has all the resources. It usually breeds resentment, envy and anger."