Popular Nigerian serial opinionist, Reno Omokri, has once again made a definite statement on the advent of side chics who snatch husbands and destroy the homes and marriages of other women.
According to him, these women who do such things will never see peace until they have a change of mind and shift from clinging to married men to securing their men too.
In a series of Twitter post, Reno Omokri first admonished husbands and fathers to stop giving unconditional love to their side chics while they treat their legally wedded wives as pieces of thrash. He charged these men to embrace their wives and show them all the love they deserve since that is what marriage is meant for.
Dear Husbands who are also Fathers,

You see that unconditional love you give to your side chick? Go home and give it to your children. If that your side chick had received unconditional love from her father, she wont be with you making her future useless!#RenosNuggets #EndSARS

— Reno Omokri (@renoomokri) October 31, 2020
This harmless statement by Reno Omokri did not go unattended to when a woman called Jayla Stiles replied and said it will be a disaster for Reno should his side chic see this comment.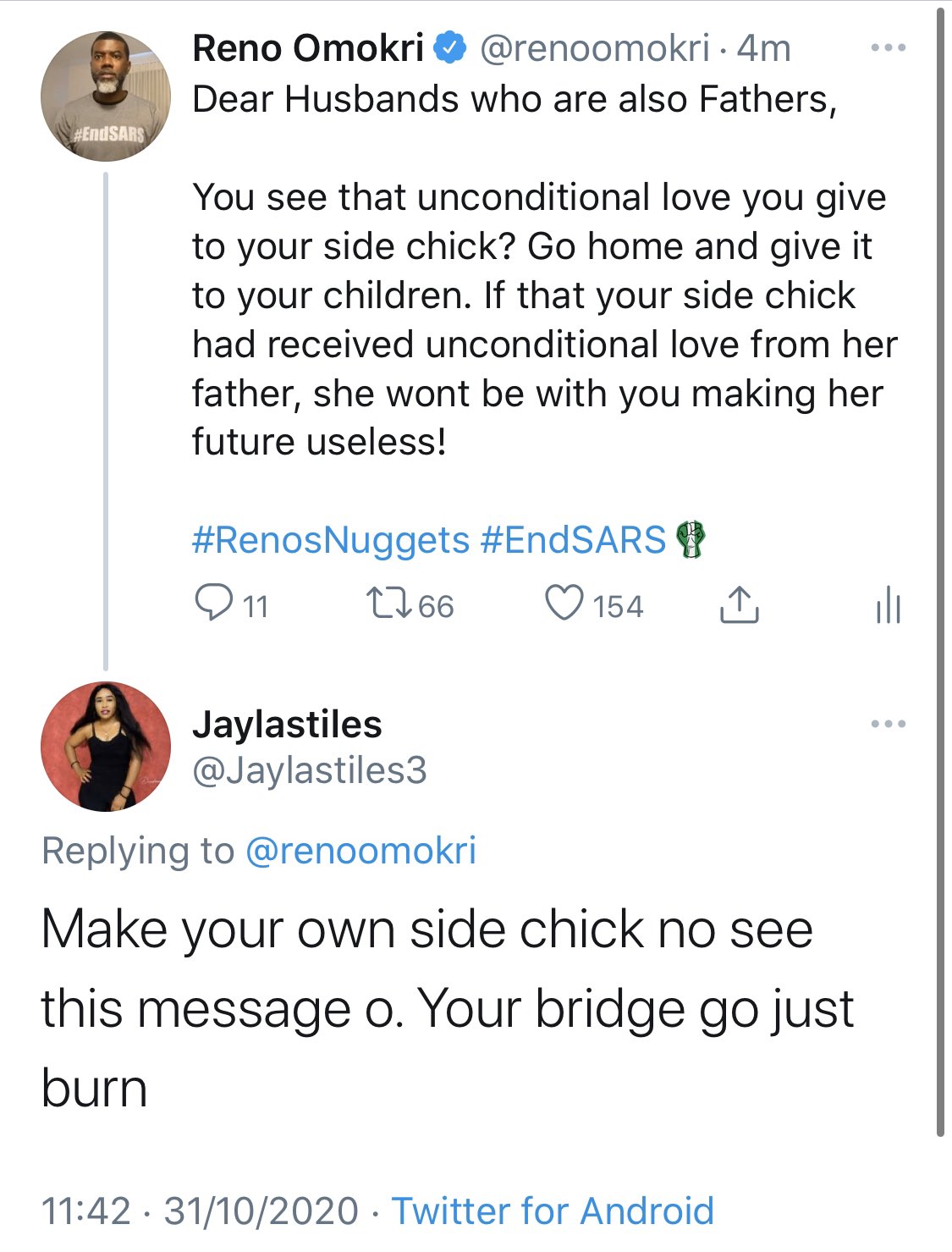 Well, Reno Omokri, who believes he has always been true and loyal to his wife replied to this comment of Jayla by confidently stating that any woman he has slept with should come out and call his bluff.
Dear @Jaylastiles3,

If there is any girl on Earth that I have slept with, since marrying my beauty queen of a wife, please speak publicly or forever be silent. Meanwhile, may it never be well with side chicks who break homes, unless they repent. In Christ's Name!#RenosNuggets pic.twitter.com/V20DgPxeet

— Reno Omokri (@renoomokri) October 31, 2020
He added that side-chics, who clearly Jayla Stlies may be one, should repent and desist from destroying the precious marriages and homes of other men since in so doing, they bring unexplained burdens on themselves.