When it comes to dancing, particularly the one carried out in groups which we so admire. One dance group that made headlines was Jabbawockeez. Who are the Jabbawockeez Members?
The Jabbawockeez dance group performs with some sort of dexterity and uniqueness that would make you want to watch them over and over again.
The dance crew Jabbawockeez has been exciting fans since 2003 and has very much been at it.
Who are the members of that dance crew and how have they fared since they started to perform together at a single unit?
What has been the group's career trajectory and what laurels have they been able to win for their efforts and uniqueness in the dance business in America?
In this article, we shall explore the Jabbawockeez dance crew to know more about what it is all about. so who are the members of Jabbawockeez?
What is Jabbawockeez?
For some of us who haven't heard anything about Jabbawockeez, it is important that we get some information about what it is all about.
The Jabbawockeez is an American hip-hop dance crew.
The group rose to prominence when they won the first season of America's Best Dance Crew in 2008.
Jabbawockeez was established in 2003 in San Diego, California.
It was a group formed by dancers Kevin "KB" Brewer and Joe Larot.
They participated in dance competitions with the idea of disrupting the existing dance scene.
At the time they felt that dance crews were clones of one another; were dancing to the "top" of the music instead of digging deep into the music, and they set out to do something different.
With Jabbawockeez, they showcased freestyle dance, were able to strike a balance between dancing to the music, and dancing as an artistic expression.
Jabbawockeez career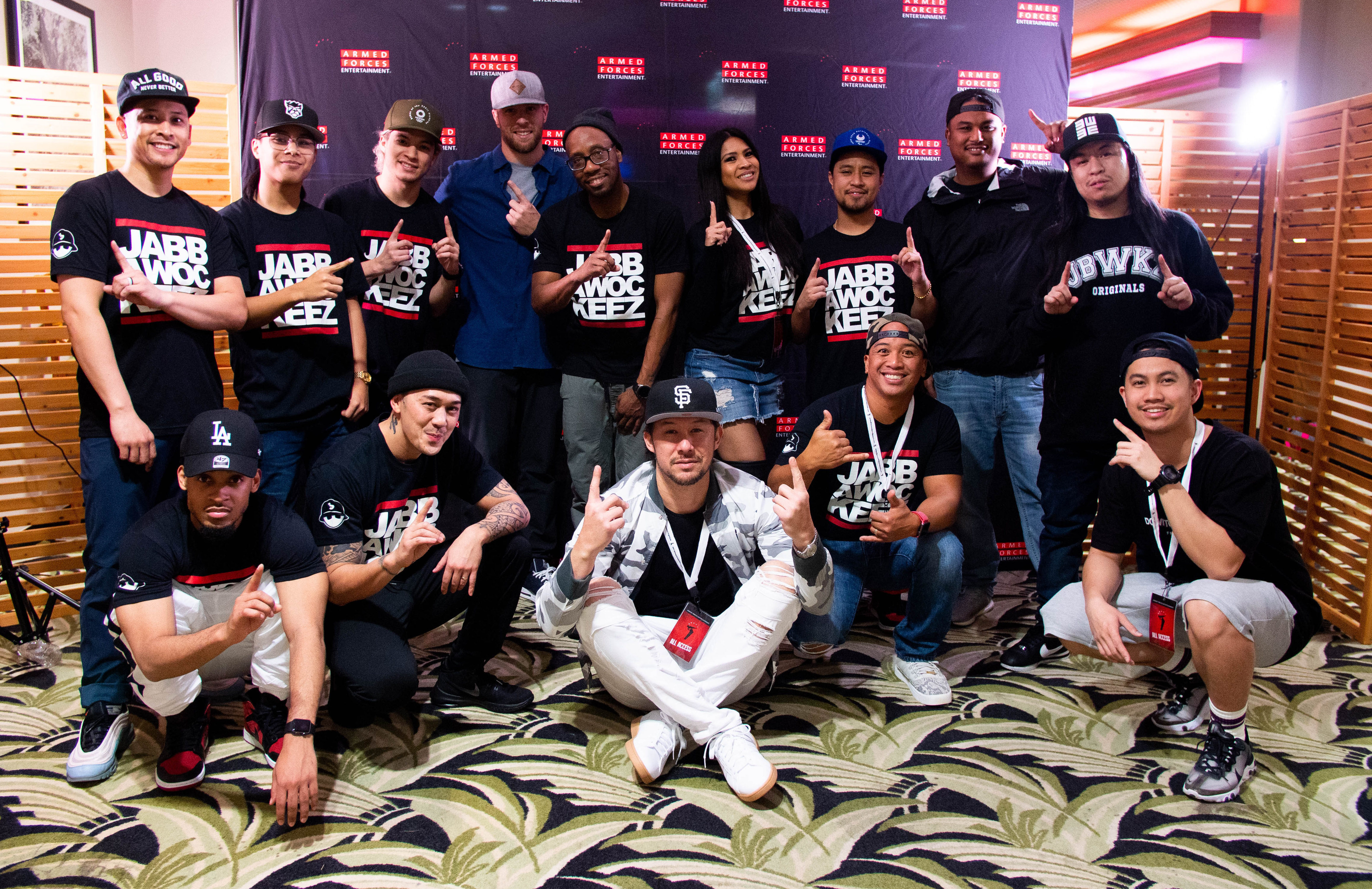 The dancers began performing wearing ski masks and gloves.
The mask and glove motif was adopted as a tribute to the 1970s San Francisco strutting crew Medea Sirkas.
Gary "Gee One" Kendall and Randy "DJ Wish One" Bernal were both members of the MindTricks dance crew who were active in the San Francisco Bay Area.
Who are the Jabbawockeez members?
Although the original Jabbawockeez members have tried to stay together since the group's creation, some have unfortunately left through various circumstances.
Garry Kendall passed away from meningitis in 2007. So who are the Jabbawockeez members?
Originally, the ABDC group was supposed to consist of Gary Kendell, Phil Tayag, Kevin Brewer, Joe Larot, Rynan Paguio, Chris Gatdula, and Phi Nguyen; however, when Gary died that year, and Joe suffered a knee injury during the audition rounds, the group chose Ben Chung to replace Joe on the show and left Gary's spot vacant, proceeding with six members.
Jabbawockeez members
Kevin Brewer–Kevin is one of the founders of the popular dance group, the Jabbawockeez. He was born in Sacramento, California, he is 32 years old as of 2021. Kevin started his dancing career in 1995. One of Kevin's most interesting things is that he is an Apple Certified Technician, which means that he is great at fixing computers. Additionally, he is greatly talented in music production and emceeing.
Joe Larot–Joseph Larot is a famous Dancer, who was born on June 29, 1984, in the United States. The dancer is best known for being a founding member of the Jabbawockeez. He performed at the 2017 NBA Finals Championship Game halftime show. He and his crew have also been in commercials for Pepsi and Gatorade. According to Astrologers, Joseph Larot's zodiac sign is Cancer.
Jeff "Phi" Nguyen--Jeff started dancing at the age of 15 when his best friend introduced him. Later, he started teaching and finally moved to Los Angeles to pursue his dancing passion and build a profound career. Jeff was born on September 15, 1988, and is 33 years old as of 2021. His hometown is Phoenix, Arizona. Jeff is a dance instructor and dances for a living. He has instructed numerous people and crews that have created great paths for themselves as well. Jeff's dancing idols are his crew gives him great motivation.
Phil Tayag–Phil Tayag is one of the popular Jabbawockeez members now. He was born on October 9, 1984, making him 37 years old as of 2021. Phil seeks his dancing inspiration from Gary Kendall, Michael Jackson in the 80s, and his entire crew. His full-time job is as a dancer.
Rnran Paguio—The Jabbawockeez without masks are even more interesting when you discover members like Rynan Paguio. The talented dancer was born on March 26, 1981, in Inglewood, California, making him 40 years old as of 2021. He is married to Belle Abuyo, another talented break-dancer. He is mostly referred to as Kid Rainen and is a Filipino member of the dance crew. So, for those who were wondering "who are the Filipino members of Jabbawockeez," there you have all info about them.
These are the Jabbawockeez members.
Source: GhBase.com