The Student Representative Council (SRC) of the Kwame Nkrumah University of Science and Technology (KNUST) has presented their budget statement for the first semeter which is quite mind-buggling.
With the gargatuan amount which in the hundreds of thousands of cedis, Ghanaians are beggining to riase concern as to whether these money if approved will serve the purpose it was meant for.
Per the content of the budget, the SRC President, Samuel K.E. Sesah and his executives are demanding a whooping GHS996,250 (OVER 9 BILLION OLD GHANA CEDIS) for the first semester which they beleive will help to cover all the costs they can project.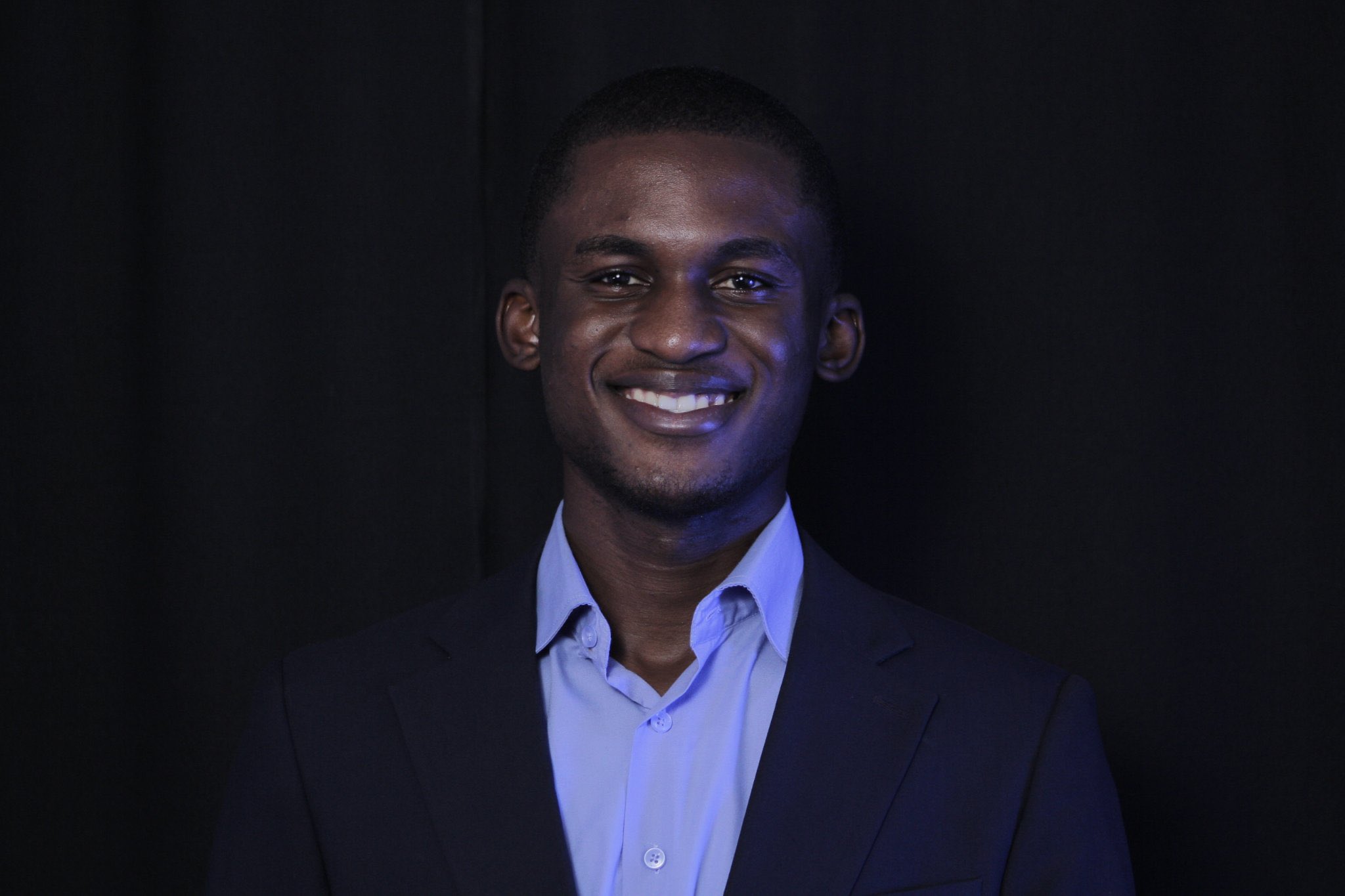 Interestingly, the initial budget amount was a whooping GHS1,000,980 which was reduced after some considerationsn were made. All this amount will be spent within a period of two months.
Check Out The KNUST SRC Budget Below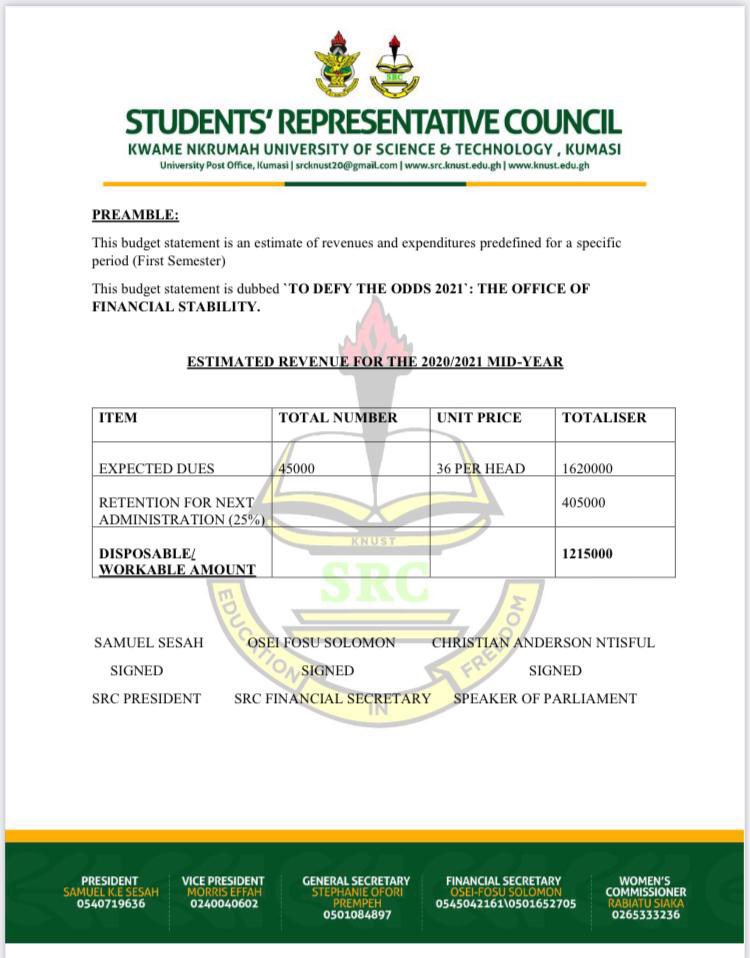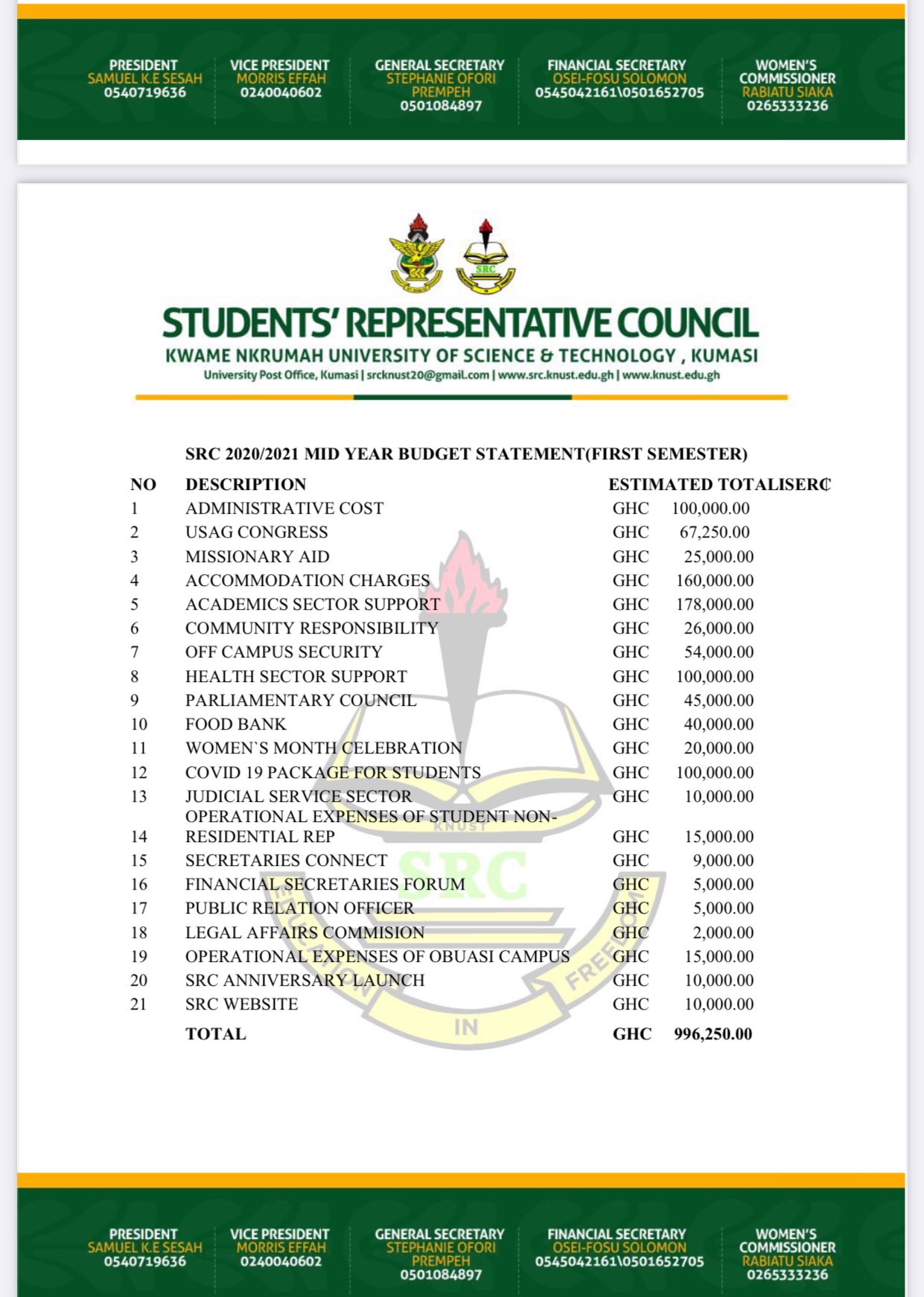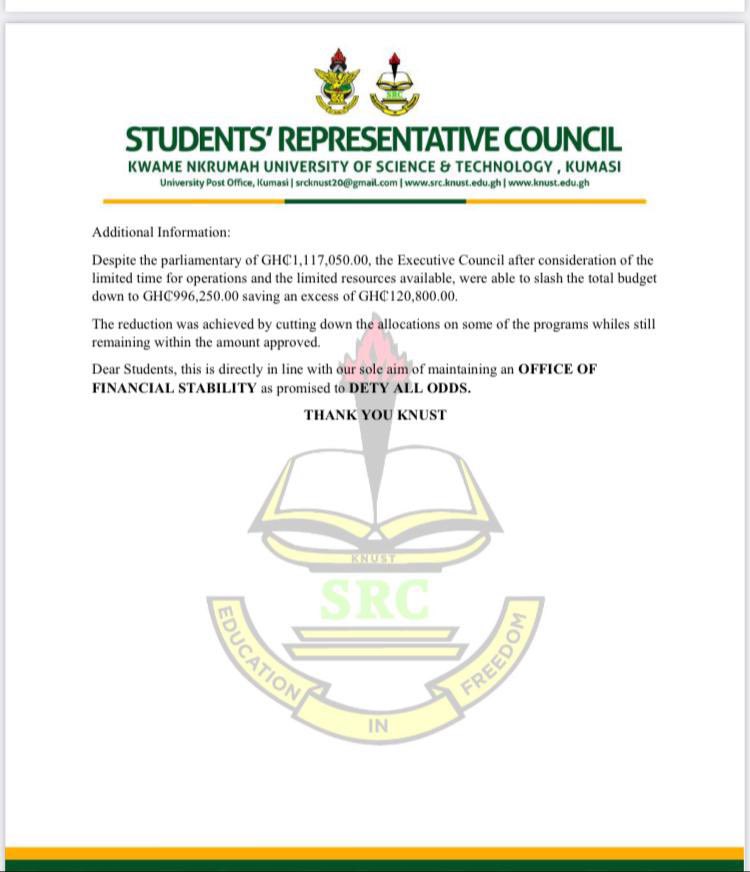 Many beleive this is a grand attempt by the SRC to chop the money since the student of KNUSRT have niot seen any sunbstantial improvement since the new executives took over.
With the outbreak of the Coronavirus coupled worsened by an unfavourable economic circumstance, many believe the budget by the KNUST SRC is quite outrageous and can be describe as a "grand agenda to chop chop"
Check Out Some Of The Views Below:
The funny thing is most of these our political leaders are from KNUST SRC and UG SRC.

Dem dey learn am from school.

— EL-DAD (@ChristDeKing) March 27, 2021
Look at some Slave Master's quote the KNUST SRC President dey take justify his corrupt leadership.. this verse was written by the Slave masters to deceive slaves into submission LMAO.😭💔

— Mr Prεssdεnt🇬🇭 (@Opresii) March 27, 2021
Abi Knust Src , every bro Dey ride Benz?

— Sneaker Nyame 👟(Best Shoe Plug) (@SneakerNyame_) March 27, 2021
But SRC executive you dey need security for what exactly? 😂540 million for security Ei KNUST SRC na US president security kraa y3 s3n??

— Lατιf🦅 (@iLatif_) March 27, 2021
KNUST SRC president is my cousin wey I call am on phone this morning say he dey trend on Twitter. He say bro forget them, Yagye Sika!!!!!!!!!!😭😭😭🤣
Sika aba fie oo yie yie🤣🤣🔥🔥🔥

— Kweku Boye📯🇬🇭 (@BoyeKweku) March 27, 2021
Kotoko get KNUST SRC dema budget aaa dem go sign like 30 Brazilian farmers aswer🤣🤣🤣

— Twilight🇬🇭🏴‍☠️ (@the_marcoli_boy) March 27, 2021