Stingy Men Association of Nigeria is not an ordinary union. It is one that has the boss of Mavin Records as the head.
This is a union of men, who have made it a resolve, not to give money out just anyhow. It'll take much work to squeeze some few Nairas out of the hands of members of that association.
Mavin Records boss Don Jazzy, who is believed to have started the Stingy Men Association of Nigeria on Monday shared the identity card that sees him as the head of the union and that has got Twitter folk talking a lot the moment he shared his identity card.
The motto of the Stingy Men Association of Nigeria, as revealed by Don Jazzy, is;
"Let me see what I can do."
Registration complete pic.twitter.com/IU4QPBlrms

— ITS DON JAZZY AGAIN (@DONJAZZY) January 11, 2021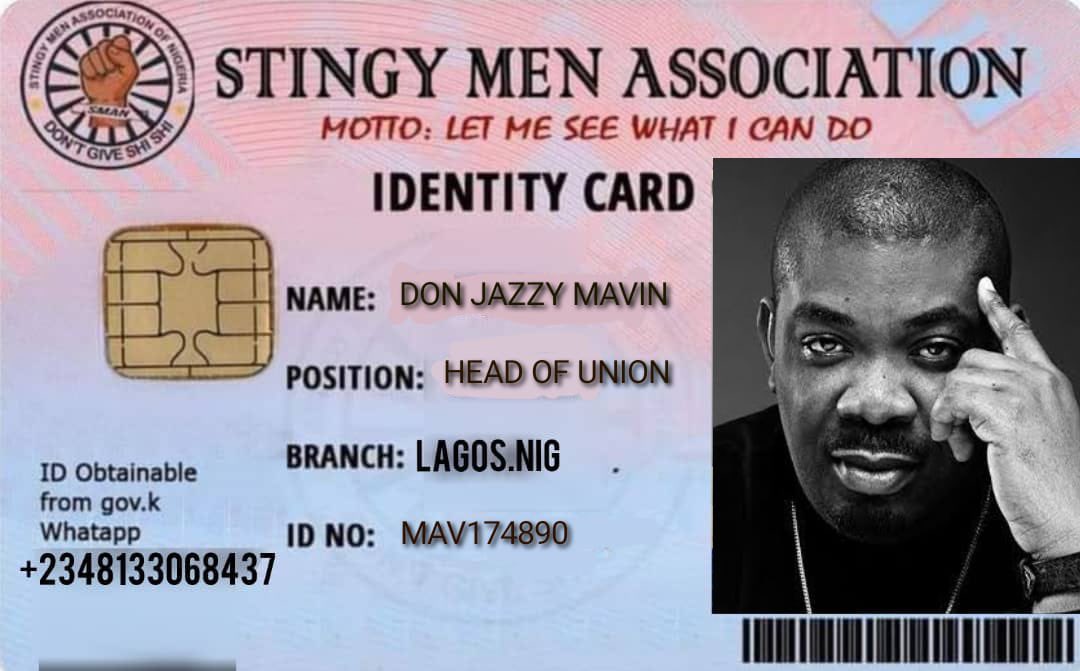 A lot more Nigerian "stingy men" have since shown their intent to join the union.
See some comments below;
Verified member ?✅ pic.twitter.com/S9dZaoRxQ1

— Sanusi Hassan (@SanusiH45659708) January 11, 2021
I don do my own sha pic.twitter.com/ayT44J1fQg

— Hoodlum of Canada?? (@World_Heylee) January 11, 2021
I want join this association ✊ https://t.co/nT98343l2j

— Deen love??(izzu)?? (@IzzuddeenAbdul2) January 11, 2021
As u emerged our Chairman of SMAN.We are confident of Chairmo Don Baba J. leadership skills. We are optimistic u will use ur good office to protect our hard earned money,our pocket & the yard stick on how & when we should spend. Thanks

PRO (SMAN)
Amadu Yahuza
@DONJAZZY https://t.co/fZ4eyR4nEE

— Amadu Yahuza© (@YahuzaAmadu) January 11, 2021
That phone number there hope say no be jonse, make I go send my account details first? https://t.co/wqvOOL7Gpo

— YourFavIgboQueen? (@MahrachiA) January 11, 2021