A fast-rising company in Ghana, Facio Innovations Technology has successfully become the first company to go green.
Speaking in an exclusive interview with Ghbase.com, the Executive Director, Urbanus shed a little light on the goals of this initiative by Faciotech.
In a press release last year, Faciotech elaborated on how climate changes affected global warming and the environment. However, Faciotech is all about environmental sustainability hence they decided to grow the love for the planting of trees through all their services.
A snippet of their Press Release reads: "Over the years, the growing implications of climate change have brought it to the center stage of development programs in most nations. Modern technology provides a better opportunity for people to live easily and conveniently. However, it contributes significantly to global warming.
Among these strategies is Afforestation. This is where efforts are made to replace the forest cover by planting trees in barren lands and reserved areas. We recognize the contribution of this strategy in mitigating the effects of climate change on the environment."
The latest development about Faciotech is that the initiative from last year is been continued
The good news about http://faciotech.com is that, for every package clients purchase, at least 4% goes into tree planting.
Through digital Innovation, Facio Innovations technology has stood out to become a boutique of graphic design & professional web development agency. Their main service is however Web hosting and Software development.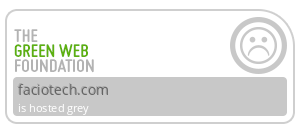 Get in Touch or Follow The CEO Of FacioTech by clicking here and the company's Facebook page here.